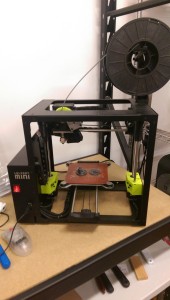 Join us for our next class on Thursday, 12/10 from 6:00 – 9:00 PM, for an introduction to 3d Printing!
Join Make: Magazine's 3D Printing Editor Matt Stultz as he guides you through the basics of 3D Printing and Digital Fabrication.  In the past few years, 3D Printing has exploded in growth and popularity, but what is it… and what can you do with it?
We will cover:
Types of 3D Printing technologies.
Software for designing 3D printable objects.
Software for preparing models for 3D Printing.
The greater 3D Printing community.
Tickets available via Eventbrite:
https://www.eventbrite.com/e/introduction-to-3d-printing-tickets-19459549035