August has been good to the Ocean State Maker Mill crew, and we've been able to represent Rhode Island and Pawtucket in a big way over the past few weeks at a variety of events.  If we didn't see you out and about, here's what you missed!
Rhode Island Mini Maker Faire
Rhode Island Mini Maker Faire at the Pell-Chafee Performance Center in Providence saw us out in full force with our Augmented Reality Sandbox project, as well as some 3D printer demos.  The augmented reality sandbox allows anyone interacting with the sandbox to see real-time changes in the topographical map-style display on the sand, as well as creating landscapes for the fish (in the water) and bunnies (on the land) to reside.  We're working on some cool mods to this project for the future, so stay tuned for when we'll be bringing it back out to play!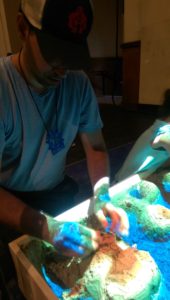 DotAir
We showed some 3d printing art action live at the DotAir festival, amidst projection art and music from a downtown Pawtucket parking garage.  We got to meet lots of new friends!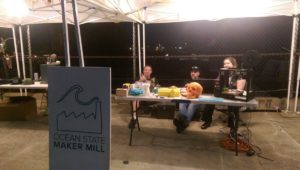 SamFest
We had a "blast" at SamFest this year at the Slater Mill Historic Site in Pawtucket!  Although we brought our typical 3d printing action, we also built some vortex cannons to entertain the crowd – giving us the ability to blow smoke rings with huge gusts of air.
The White House!
OSMM's very own Matt Stultz was invited to the Makerspace Organizer's Meeting in Washington DC at the White House to speak on making and makerspaces, and to collaborate with other makerspace movers and shakers around the country.  We can all learn so much when we work together, and building a community is a key part of OSMM's mission.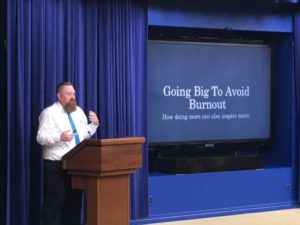 What's Next?
So what's next?  World Maker Faire in New York!  Stay tuned for updates – you may want to get involved…