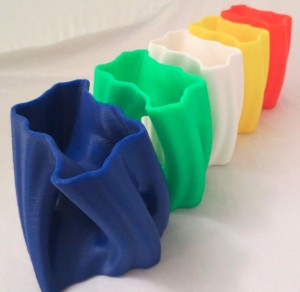 * Photo courtesy Kurt Hamel
The first day of Spring brought us snow… but never fear, rainbows AND maker events are on the way!  Here's a quick list of upcoming events – either hosted by Ocean State Maker Mill, or where you can find and meet OSMM team members!
* March 20 – 22: Midwest RepRap Festival – Our very own Matt Stultz is in attendance, see if you can find him in the crowd to pick his brain!
* March 28: Arduino Day – stop by the OSMM workshop for an Arduino-inspired open house!  Meet OSMM members and see projects utilizing Arduinos.  Find out how to get started on your own Arduino projects.
* April 8: 3DPPVD and OSMM host a ColorFabb and 3D Hubs Workshop – Learn more about ColorFabb 3D Printing filaments – including their new carbon fiber filament.  Find out best practices and use with FDM printers.  Purchase a ticket to receive a ColorFabb sample pack!
* April 11: Robot Block Party – Stop by the OSMM booth to meet team members, see cool projects, and talk shop!
* May 2 – 3: Printrbot Build Party!  We'll have a very limited number of tickets available for a group Printrbot Metal Simple build.  Saturday, build your new Printrbot, Sunday learn to use it!  Stay tuned for additional info
* May 15 – 17: Maker Faire Bay Area – OSMM is teaming up with Make for an exciting event you'll want to "race" to!  Fire up those rubberband engines…
* September 26 – 27: Maker Faire New York – plans are still in early stages, but expect a crew!
We hope to see you soon!