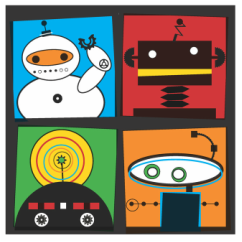 It's Robot Block Party time!  Our members have been super busy – from helping to support the Robot Block Party segment on The Rhode Show this week, to extended hours in the workshop making team tshirts, designing wobble bots, building robot race boards, creating info fliers, and building amazing surprises for the Robot Block Party event!
Check out the segment we helped with on The Rhode Show this week:
We're busy bees!
We hope to see you at the Robot Block Party on Sunday, April 30th from 11 – 4.
For more information: http://risfnet.weebly.com/robot-block-party.html